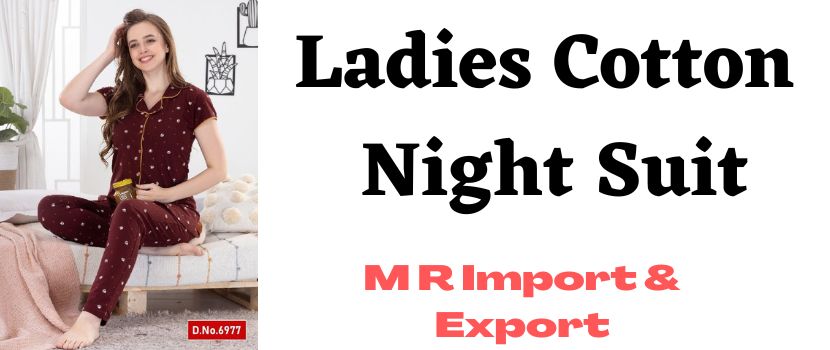 A restful night's sleep is what you deserve after a long, stressful day, and nights are always reserved for extra-cosy pyjamas. Whether you want to wear dresses, pantsuits, or just your favourite pair of jeans and a t-shirt during the day, a decent cotton nightdress is unquestionably the most comfortable option. Cosy nightwear has always been the greatest partner for it all, whether it be those hectic work-from-home days or a whole weekend of lounging.
Don't worry if you're looking for some of the most fashionable, and comfortable nightwear options; this article is here to assist you with that!
Nightgown
The best ladies cotton night dress is without a doubt a nightgown. Nightgowns have long been women's top choice, and classic styles never go out of style. Especially those made of cotton, it is unquestionably one of the most comfortable nightwear. There are now numerous stylistic options for nightgowns. Some even have lace patterns embossed, printed, or embellished with needlework. The majority of lace-trimmed nightgowns are made of silk, nevertheless. The age of today likes to spend their money on sensual satin nightgowns that look modest but feminine.
Nightie Dress
Nightie dresses would suit you perfectly if you are looking for some short and adorable nightwear. You will not be able to stop yourself from purchasing these short ladies' cotton night dresses because of how cute they look.
Cotton nightie dresses are the best since they fit every body type and provide restful sleep even in humid weather.
Pyjama Set
One of the cosiest and most typical styles of sleepwear, pyjamas may be found in every woman's closet. A pyjama set consists of blouses, t-shirts, and pants. The fact that pyjama sets include both tops and bottoms is their best feature. You can mix and match tank tops and crop tops with the pyjama trousers to complete the look and call it a night. There has been a significant advancement in the industry, and today's ladies' cotton night suit exporters offer pyjama sets in various trendy prints, hues, and patterns.
Jumpsuit
Jumpsuits are without a doubt the prettiest nightwear ever created! These nightgowns are perfect for a pyjama party with your girlfriends. Jumpsuits are sometimes referred to as "pretty playsuits" because they precisely enable you to establish your sense of fashion. Jumpsuits are a good option for women who do not particularly enjoy long nightgowns or fully-covered jumpsuits. Since today's generation of women simply adores these lovely playsuits, there is a rise in demand for these adaptable fits made from 100% cotton fabric among the lady's cotton night suit exporters.
Shorts And Tops Set
This nightwear is perfect for you if you enjoy pairing a pair of cotton pants with a casual t-shirt. The best nightwear option for you may be one of these outfits. These are incredibly comfortable nightgowns manufactured from the cosiest fabrics to provide a sound night's sleep. If you choose lace and printed shorts, short sets are the perfect combination of allure and carefree style.